This 6 Days Rwanda Uganda Tour takes you to both countries and allows to visit Nyungwe Forest National Park in Rwanda for a canopy walk or chimpanzee trekking. Book Now.
It visit popular National Parks such as Volcanoes National Park in Rwanda for gorillas or golden monkey trekking, to Bwindi Impenetrable National Park in Uganda for gorillas or forest walk, to Queen Elizabeth National park for game drives and a boat cruise on Kazinga channel, to Kibale National park for chimpanzee trekking and wetland walk before drive to Murchison Falls National park for game drives and a boat cruise to the bottom of the falls. This tour proceeds to either Jinja town to visit the source of the Nile and/or White Water Rafting which is the longest river on planet earth.

Overview.
Day 1: Arrival for your 6 Days Uganda Rwanda Tour.
Day 2: Gorilla trekking in Volcanoes National Park.
Day 3: Cultural tour at Iby'iwacu cultural village.
Day 4: Boat cruise and transfer to Lake Mburo national park in Uganda.
Day 5: water rafting on river Nile.
Day 6: End of Uganda Rwanda Tour.
Day 1: Arrival for your 6 Days Uganda Rwanda Tour.
As soon as you arrive, you will be welcomed by our  tour guide from airport who will take you for a city excursion in and around Kigali. Its a beautiful country with a thousand hills. After this excursion, you will proceed to Virunga National Park located in the North of Ruhengeri via undulating and beautiful terraced hills showing a clear picture of the general landscape and altitude of Rwanda. Arrive at the Park for Dinner and Overnight at Lebambou Gorilla Lodge.
Day 2: Gorilla Trekking in Volcanoes National Park.
Very early morning, benefit from a tasty breakfast at the lodge before your first exciting morning, the tour guide will  drive you through  Volcanoes National Park that is too clear in the indigenous forest for Gorilla trekking and draws one to the real side of natural beauty. The activity immerses you into the strange intimacy of the rainforest plus a live call of colorful birds, chattering of the rare golden monkey, and littered with fresh spoor of the mountain elusive populations of buffalo and elephant. If you don't want to trek gorillas in Rwanda, then you can choose to visit  golden monkeys. Have lunch at the lodge and later relax up at the lodge.
Day 3: Cultural tour at Iby'iwacu Cultural Village.

After the amazing activity of gorilla trekking yesterday, today you explore a bit of culture at the Iby'iwacu cultural village to have a taste of the history and culture of Rwanda.
Some of the members of this cultural village are former poachers who depended on the forest for survival, this cultural village contributes heavily to conservation of the mountain gorillas because they are able to earn from sharing their culture as opposed to poaching.
At 4×4 Car Rental Rwanda we are committed to include cultural experiences on our itineraries to enable visitors experience the areas they visit more intimately and also have the locals benefit directly from the tourism income. This marks the end of your 3 day Rwanda gorilla trekking safari, you will then be transfer ed to Kigali to return to your hotel or take your flight back home.
Day 4: Boat cruise and transfer to Lake Mburo National Park in Uganda.
Today, embark on a boat cruise to explore the different islands of Lake Bunyonyi. Cruise to punishment island where Bakiga unmarried pregnant girls would be taken and left to die in isolation. other islands of lake Bunyonyi include Akampene, Bushara, and Bucuraniko among others. In the afternoon, transfer to Lake Mburo national park. Overnight at Mihingo lodge.
Day 5: Water Rafting on River Nile.
With the biggest rafts on the rivers, you will see how professional rafters are able to handle and conquer carefully the most challenging rapids.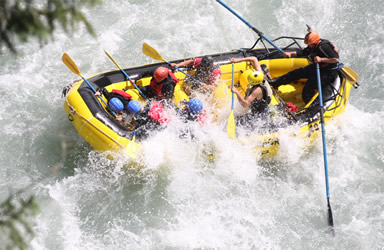 After a full demonstration, it's your turn to get on the water and try your water rafting skills. For those looking for a white knuckle trekking adventure, this is the perfect trip. If you love the thrill of playing adrenaline rush of abseiling, then you're sure to enjoy water rafting. Dine and rest in Gately on the Nile, Sunset Hotel, Hotel Triangle.
Murchison Falls  Tour.
In the evening you will head to Murchison Falls another delightful destination with lots to appreciate about Uganda. When you get there drive straight away to the top of the fall such sight to appreciate the staggering power of the falls and the river Nile. Relax in Paraa Safari Lodge and Nile Safari Camp.
Day 6: End of Uganda Rwanda Tour.
After breakfast, your tour guide drive will transfer you to Kampala proceeding to Entebbe airport for your outbound flight. This will mark the end of your 6 Days Rwanda Uganda Tour.